Garrett Axiom is a brand-new metal detector designed exclusively for natural gold prospecting with its new-patented technology Ultra Pulse an enhanced Pulse Induction technology with better performance in detecting small or large gold nuggets.
Axiom metal detector brings many new and enhanced technologies and features useful for gold prospecting including unique ground balance feature, different detection modes and sensitivity options for detecting in different ground conditions and terrain.
Axiom gold detector's modern ergonomic design and lightweight offers a comfortable working experience for prospectors and more operation time in detection fields to find more gold.
Get Axiom gold detector the best gold detector ever and start your journey in gold prospecting.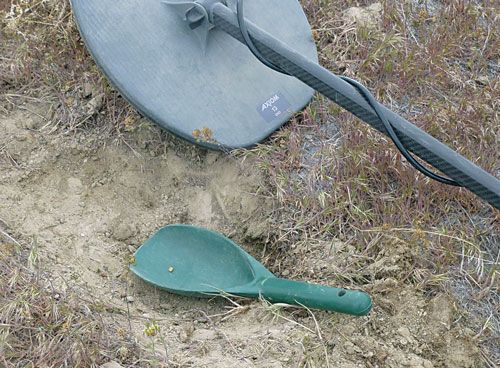 Axiom Features
Metal Detector Exclusive for Gold Axiom metal detector development was exclusively for natural gold detection, and incorporates many unique powerful features that assist the prospector to find smallest golden nuggets more easily.
Ultra Pulse Technology
The brand new Ultra Pulse technology in Garrett Axiom device provide better sensitivity and as well as a versatility that ensures the device's uses in various types of soil such as saline soils (saltwater) and highly mineralized soils.
This made by selecting a detection mode from among four settings, each of which is perfectly programmed to find all grades of gold from large gold nuggets to sub-gram tiny granules.
TERRA-SCAN
Axiom's advanced system provides independent dual-channel ground balancing, covering the full range of mineralization from heavily mineralized magnetic soils to salt-water soil and everything in between
Provides the maximum possible detection on small, low-conductivity targets (such as fine gold and specimen gold) while also providing the best detection of most medium and large targets. Because of its increased sensitivity to small/fine targets, FINE Mode can be more susceptible to ground minerals, hot rocks or saltwater.
FINE is typically the preferred mode for most conditions.
Provides very good detection on all size targets.
NORMAL will be less reactive in highly mineralized soil
but will have reduced detection of very small targets.
Maintains strong detection of large targets while
reducing small and medium targets. Most important,
this mode reduces susceptibility to highly mineralized
ground and hot rocks.
Designed for use in mineralized areas with wet salt
content, primarily for wet saltwater beaches. SALT
Mode may also be useful for dry inland salt lakes and
goldfields with high salt concentration, depending on
moisture content. But it is recommended to first try the
other modes for these inland conditions.







AXIOM POWER PACK
OFT CARRY CASE
WALL CHARGER AND ADAPTORS
AXIOM 13-inch AND 11-inch COIL COVERS
HEADPHONES
12 V CHARGING CABLES AND ADAPTER
AXIOM 13-inch AND 11-inch SEARCHCOILS