eXp 4500 Light Metal Detector by OKM
Are you tired of finding only smaller things close to the surface? Do you want to detect real buried treasures that lie deeper than a normal metal detector is able to detect? You are in luck! OKM is introducing the sub-surface image detector, multifunction and ground scanner, the eXp 4500! Unlike other ground scanners and image detectors, the eXp 4500 is truly unique. Calling the eXp 4500 a simple detector would vastly understate its potential due to a large number of integrated functions. The eXp 4500 can locate buried items, ancient artifacts, lost treasures, and even natural mineralization such as gold and silver at depths far greater than normal.
Highlights
All-arounder: OKM's detector for multifunctional subsurface detecting –with limited features
Measuring Depth: Customers have found objects up to 25 m (82 ft) deep
Use cases: Treasure hunting, natural gold prospection, cavity detection
Operating modes: Ground Scan, Pinpointer, Mineral Scan
Detectable objects: Treasure chests, cavities, tunnels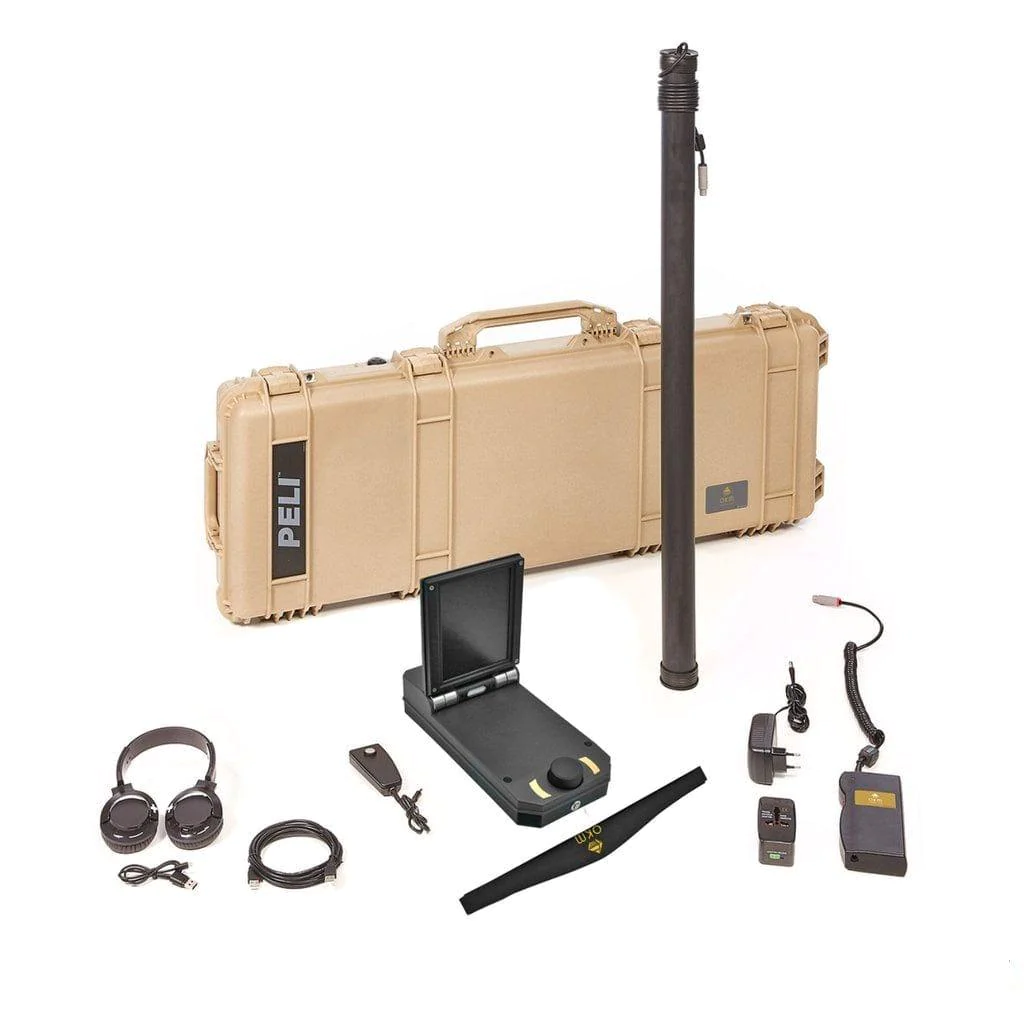 Features and applications of the eXp 4500 ground scanner:
The eXp 4500 ground scanner is a high-performance metal detection device that was specifically designed with the following applications in mind:
3D archaeological surveys, metal detection, treasure hunting, and gold prospecting
Pointer to locate the exact location of buried treasures and artifacts
3D images including size and depth
Detects gold and other high-value items
Find ancient artifacts, hidden treasures, gold, silver, bronze, coin treasures, treasure repositories, pirate chests
Location of tunnels, hollows, and caverns
Mineral prospecting and natural gold
With several specialized detection antennas, the eXp 4500 ground scanner can also be used in highly mineralized areas for treasure hunting and prospecting. The graphical user interface of the eXp 4500 ground scanner is available in the following languages: Deutsch, English, Français, Spanish, عربي,فارسی, Λληνικά, Türkçe, 中文, Pусский, Nederlands, Български. The functionality of the eXp 4500 metal detector is only one key point that makes it a unique treasure hunting device. Each individual probe and antenna are tuned and optimized for its own purpose and function.

The following antennas are available but not included in the Light package:
GPR antenna (25 cm, 50 cm, 75 cm, 100 cm)
Antenna for tunnel detection
Super sensor for high-resolution ground scans, aiming, and mineral detection
FS-Thermoscan for 3D infrared images
The unit of measurement of the eXp 4500 includes a PC module with a full-color display on which the data is immediately displayed. During the scanning process, no laptop is required, instead, you can see the results directly on the screen in real-time as they are recorded. The measured data are stored in the internal memory and can then be transferred to a computer. The transfer of values to a computer allows the operator to evaluate and compare all stored data. By doing this, the operator can determine the depth, size, and position of each target using the professional Visualizer 3D software.
The eXp 4500 ground scanner has several features that differentiate it from other image detectors:
Lightweight portability
Real-time non-intrusive surveying
Quick setup and operation –easy to use
Color-coded live scores
Interpretation of the results at the target
Values that show the extreme depth and location of the target search
The highly sensitive and accurate metal detection device
Certified technicians and a 2-year warranty are our standards for all metal OKM detectors. Extensive field tests guarantee the high quality of all ground OKM scanners leaving our factory. Operating Modes of Ground Scanner and Exp 4500 Metal Detector: Hidden artifacts are of different sizes and are made of different materials. So, the treasure hunter needs different modes of operation and location methods to find all those hidden treasures at various depths beneath the ground's surface. The eXp 4500 ground scanner is capable of the following modes of operation: Ground Scan is ideal for treasure hunters and archaeologists looking for underground artifacts, treasures, and historical and archaeological objects. Mineral Scan has been integrated for gold seekers, prospectors, and miners looking for gold and natural minerals. Tunnel Scan is a specialized way to detect underground voids, tunnels, cavities, and hollow spaces. PinPointer helps you to locate the correct position of the detected elements. Thermo Graph & Thermo Scan are used to detect cavities and underground tunnels by measuring temperature differences. The magnetometer is useful for locating ferrous metals such as iron and steel. Custom eXp 4500 Metal Detector Packages: The eXp 4500 metal detector and ground scanner come in a wide range of optional components for various search needs. We offer 2 standard packages: eXp 4500 Professional: The Professional edition includes all the basic components needed to operate the 3D ground scanner. It is configured to initiate 3D metal detection. This means that central components such as the control unit with monitor, Power Pack with charger and travel adapter, headphones and joystick, Visualizer 3D software, USB cable, Peli carrying case, user's manual, and a 25 cm GPR antenna with the telescopic rod, as well as the Super Sensor are included. With this package, you can perform 3D scans, find targets metal and gold deposits, and determine the position, and approximate. size and depth. Additional accessories can be purchased at any time to increase the field capabilities of your unit. eXp 4500 Professional Plus: The Professional Plus Edition of the eXp 4500 metal detector was designed for professional searching and includes all available options. All probes and antennas are included, such as the horizontal GPR antennas (all sizes), the tunnel and cavity antenna, as well as the FS-Thermoscan for infrared measurements. You can also create your individual custom package for your specialized treasure hunting and mineral detection needs. Contact us and we will gladly assist you in putting together the perfect package that meets your exact needs.